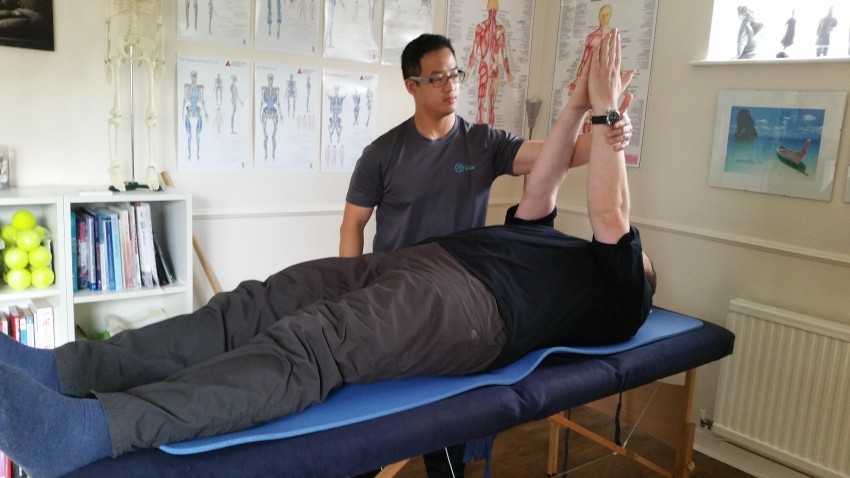 Optimum Body Mechanic – Week 8

It was my turn in the hot seat last week as I got the man himself Venard, to take a look at my dodgy ankle that has troubled me for all the years I've played football.
His methods are unconventional but effective, I've had many treatments on my ankles but none like this, and none that offered such quick pain relief. I'm no fool I know Venard couldn't fix me forever in 30 minutes, but I know with a bit more work with him I will be an all round more functioning piece of anatomy.
It was an eye opener in to what Venard does and why he is so good at what he does! We're lucky to have him on our doorstep.
Here's his take on how it went:
"Last week I had the privilege to do a session with resident PTW trainer, Lee Plant with his ankle injury that was sustained playing football.
That pesky ankle was restricting squatting and there was some hesitancy in performing that movement. We ran through some background info and assessments and we found a few ligament issues with the ankle. What was really interesting was how big an effect the ankle had on the rest of his body.
I think Lee was expecting some pain, manipulations, elbows, thumbs and just conventional treatments (read: abuse) that conventional therapists would use. Correction that was specific to his issue and dysfunctional pattern took a few minutes and he was a happy bunny.
After the correction, squatting was easier, more confident and there was more freedom in the movement"
If you're still in long term chronic pain from the same old niggling injuries, stop being and idiot and avoiding it, it won't go away. Seek professional help, some of the best in Venard @ Optimum Body Mechanic
"Stay strong, stay healthy"
Team PTW