PTW collaboration with "Optimum Body Mechanic"
We at PTW pride ourselves on collaborating with other local coaches, trainers, therapists and basically anyone who has a strong skill set, that we think will help you.
We are really excited to announce our next collaboration with the "Optimum Body Mechanic" aka Mr Venard Fong
This man is a genius in rectifying all things pain and injury.
Venard: "I work with active men and women who are frustrated with their pain and injury and would like to get out of pain and injury and move better so they can get back to their active lifestyle.
What separates my service from other therapists/ injury rehabilitation professionals is I look at the whole body as a whole unit to identify the true root cause of the issue. I look at how the body moves, what it is doing in certain positions and the quality of the movement and because of this, clients receive pain free movement, better quality of movement, happier lives".
Pain and injury keep coming back?
Injury not fully resolving?
Affecting your life?
Little success from other forms of treatment?
Want to move more efficiently and effectively?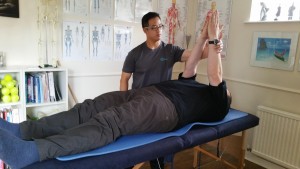 Here's what past clients have said:
''Over the course of several years squatting I always had problems with my adductors – they would get tighter and tighter every day and it got to the point where I would need 30mins to warm up and loosen them off. One session with Venard resolved this – by finding that they were overcompensating for other muscle, he corrected this and immediately my body did what it was supposed to.''- Carl
'Just 3 sessions I understand the cause of my knee pain for the first time and am able to carry out the exercises he has prescribed. My pain has reduced considerably and I have had my first pain free cycle ride in 2 years!''- Annette
''I had benefits after the first session and was able to run up the stairs with no pain that same day. I was so made up with these improvements. I really couldn't believe that the same day I came to see you my foot was on the mend. Over the five weeks I was seeing you the pain has completely gone in my foot and my whole posture and the way I run has changed, so hopefully the injury will not reappear. I can't thank you enough for what you have done for me I would recommend you to anyone I speak to regarding injuries and say you are well worth the money I paid for''- Heather
'' I have seen several Osteopaths over the years, but they were only able to provide me with a temporary fix as the pain would eventually return. The 2 treatments I have received from Venard were easy to follow and have helped me to return to my daily fitness routine quickly.''- Emma
Venard is going to be checking in with us on a regular basis from now on, and spreading his knowledge on how to help you alleviate pain and move better/more efficiently.
He is also offering a special 10% discount to all PTW clients as well as a FREE 30 minute discovery session for those "I'll get that looked at" niggling injuries, you keep putting off.
"Stay strong, stay healthy"
Team PTW