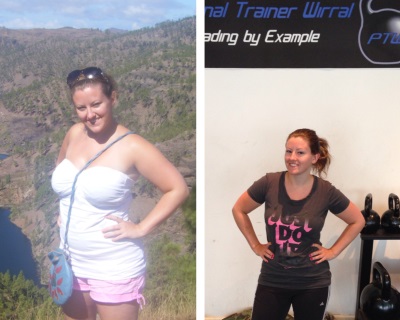 I've been training with PTW for about 7 weeks now and I'm never looking back. If you want a trainer that is professional, motivational and yet has a good sense of humour, then PTW is the place. I originally started after I felt fed up with the way I looked, stuck in a rut, unsure of what to actually do in a gym and couldn't fit into any of my clothes. Something had to give. I was originally going to go for four weeks to see how it panned out, but I've never felt fitter, healthier and sexier! It has given me confidence and people have commented on how they now see a 'spring in my step'.
The sessions with Jason leave me feeling full of enthusiasm to want to continue down a healthier road and have the dedication to stick it out. Now that I'm seeing the fantastic results myself, I'm carrying on. What is more, one of the concepts that Jason fosters in me is education. I feel confident enough to go to a gym and now know what I am doing, as well as do my workouts at home. Combined with a tasty eating plan, it works! So even outside of the training room, I am keeping active and fit.
Despite the cliché, I would not have been able, nor had the confidence to do this if it were not for Jason. He is there every step of the way offering support, motivation and even the odd joke! It's a win, win situation. Never looking back because I feel awesome!